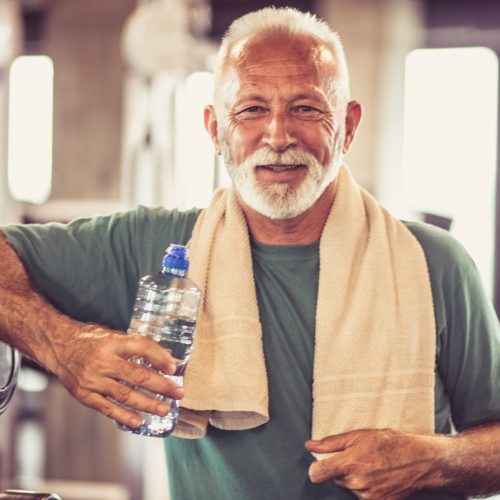 As with all of us, having a healthy lifestyle by eating well and maintaining a regular exercise schedule is important for all men at any age. However, all of us sometimes need a little extra help with getting all the vitamins and minerals we need and therefore turn to supplements to give us the boost we need.
For men, this is often focused on supplements that help maintain and boost testosterone levels, help certain body parts remain standing tall when needed, keep the prostate healthy and cholesterol in check. Experts agree that maintaining healthy levels of testosterone is vital to men's health through all stages of life.
Here are a few supplements especially aimed at helping the menfolk keep healthy at all stages of life.
Tribulus terrestris is a fruit-producing plant high in a compound called Saponins that grows in many places including Europe, Asia and Africa. Our Tribulus Extract, formulated especially for men, also contains Zinc which contributes to the maintenance of normal testosterone levels in the blood alongside other benefits such as reduced tiredness and fatigue.
Tongkat Ali (which translates as Ali's walking stick) is derived from the roots of a tree known as Eurycoma Longifolia Jack. It has been used for thousands of years in Indonesia and other parts of Asia for its aphrodisiac properties. It has recently been introduced to the rest of the world and has been transforming the health and sex lives of thousands of couples.
While studies offer mixed results, Saw palmetto, a type of palm native to the south-eastern United States, is commonly used by many men as a natural way to help with prostate health and improve side effects associated with an enlarged prostate, balance hormone levels, and prevent hair loss.
Montmorency cherries are a variety of Sour Cherry, grown in Europe, Canada and the United States that are known for their bright red colour and are naturally high in a family of polyphenols known as anthocyanins. These popular cherries are bursting with essential vitamins and nutrients and are naturally high in dietary fibre, Vitamin A, Vitamin C and Antioxidants.
Plant Sterols are naturally occurring compounds found in a variety of plants such as fruits, vegetables, cereals, and legumes and help stop normal cholesterol being absorbed into the blood and small intestine - therefore helps in maintaining healthy cholesterol levels. With a high enough dose, it can also lower levels of the "bad" LDL cholesterols in our bodies.