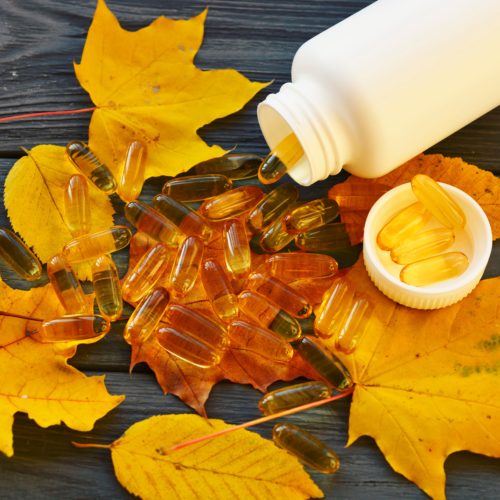 Although autumn is a beautiful season with it golden colours and crisp mornings, it is not uncommon for many of us to start to feel a little under the weather as the temperatures drop and the dark nights draw in - bringing with them seasonal illnesses and side effects. Not only is it the start of cold & flu season, but other seasonal side effects are also common around this time of year – from dry skin to mental health issues.
The colder weather and the increased use of central heating at home result many people experiencing dryer skin in the autumn months.  Some also find they experience a reduction in energy and motivation, and the darker nights may see increased levels of anxiety and depression for others.
To help give your body the seasonal boost it may need at this time of year, here are just some key supplements that may help keep you fit and healthy at this time of year and help you prepare for the winter months.
While nature helps us get increased vitamin A with seasonal produce rich in Vitamin A such as pumpkin, sweet potatoes and carrots, not everyone can get the vitamins they need from their diet alone.  Vitamin A can help our skin maintain moisture and elasticity. Because it has a very important antioxidant function, it can prevent the appearance of the free radicals responsible for skin aging. It evens out the skin, improving tone and texture. It also encourages the natural production of collagen.
As we see less of the sun in the autumn months, it makes sense that we may need more of the 'sunshine vitamin' to help keep us healthy in the darker months when we may be leaving the house and returning home in the dark. Low levels of Vitamin D could leave you feeling tired and unwell.
Vitamin C helps to build up the immune system and boost immunity in the colder months, as well as helping reduce the symptoms of cold & flu. This popular vitamin is also needed for strengthening the blood vessels, bones, gums and teeth. It also has a protective role as an antioxidant. Vitamin C also helps to maintain normal blood fat and cholesterol levels and is involved in fat metabolism.
Ginger offers many health benefits and has been used for its medicinal purposes for many years, having first been cultivated in China as an all-purpose remedy thousands of years ago. Ginger can be used to help alleviate nausea and settle an upset stomach, as well as having anti-inflammatory properties that can work to ease the symptoms of a common cold or winter flu, as well as relieving headaches and other aches and pains that become more prominent in colder weather.
Omega-3 is used to make cell membranes and is therefore vital in helping to keep the cells in your body nice and healthy. An Omega-3 deficiency can lead to dry skin, fatigue, and depression - all of which can be worse during the autumn months. This general all round good vitamin can also help lower your risk of disease and reduce inflammation.