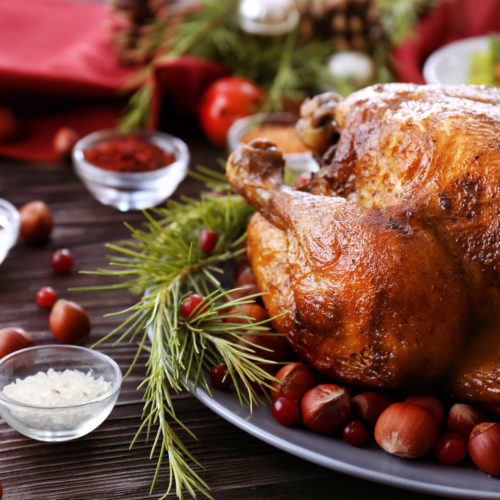 With the average Brit consuming more than 5,000 calories on Christmas day alone, it's no surprise that the festive season sees many of us gaining weight! On average, we gain 6 lbs (nearly half a stone) in the 7-days from Christmas to New Year - the equivalent of 5 basket balls!
While none of us here at Woods would begrudge anyone a mince pie or two, we have put together a short guide on some simple yet effective things you can do to make your Christmas a little bit healthier and avoid heading into the New Year feeling bloated and sluggish.
Keep Hydrated
Many of us reduce our water intake and up our alcohol intake over the festive period. Remember to still drink your recommended 2 litres of water a day - not only does it have many health benefits it will also give you a sense of being full which may limit a lot of snacking on all the goodies lying about.
Keep Moving
Do try and keeping moving as much as possible - you don't have to even leave the house. There are many great workouts for all levels available online or simply use your home stairs to get the heart rate up - approx. 10 mins of up / down the stairs will burn 100 kcals. If you have a regular workout regime, try and stick to it as best you can during the festive week.
Get Creative
Healthy food can be fun and delicious! Not all Christmas nibbles and dinners need to be calorific...the internet offers many fun yet festive alternatives such as a broccoli Christmas tree dipping platter, grinch fruit kebabs & strawberry Santa's!
Choose your booze wisely!
The good news is that Champagne/Prosecco are one of the lower calorie drinks with only about 90 calories and 6 grams of sugar per glass, compared to approx. 153 calories and 11 grams of sugar in Irish Cream Liquor. All those liquid calories and sugar intake add up quickly so make sure to drink water between drinks - this will also leave you with a clearer head the next morning and help avoid the hangover munchies.
Portion Control 
Try and just eat a normal size meal on Christmas day and pace yourself - there is no need to supersize your dinner and then immediately follow it with a huge pudding! It takes 20 minutes for the brain to register that your stomach is full so eat slowly and enjoy the feast. Being overly full will not only lead to weight gain but can also be very uncomfortable causing heartburn and indigestion.
These are just some basic tips to help you have a jolly Christmas without the less fun side effects of overindulgence.
Have a wonderful healthy merry Christmas!