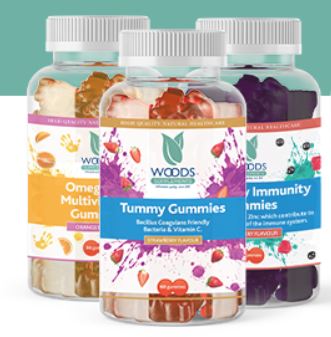 Over the past few years, the dietary supplement market has grown among consumers of all ages. However, for some, the thought of adding various pills to their daily routine isn't very appealing, especially amongst the younger and older generations. Chewable options are available but again, the thought of chewing a pill, does not appeal to many and this is where the yummy gummies come in!
If you're someone who understands the importance of taking daily supplements but just cannot remember to take then or simply don't like swallowing tablets, gummies are the perfect solution for you!
 These alternatives to the traditional capsules and tablets commonly sold, have the same dosages as capsules and tablets but are instead contained in a tasty sweet, to make taking them a lot easier to take. So, if you're someone who shudders at the thought of swallowing various pills as part of their daily routine, gummies as a brilliant and tasty alternative as gummies do not look like medicine, nor do they taste like it either!
Gummies provide a much more fun, tasty, and convenient way to take your daily nutritional supplements while still receiving the health benefits sought.
Our Gummies range currently includes: -
Apple Cider Vinegar Gummies
Elderberry Immunity Gummies
Energy Gummies
Multivitamin & Mineral Gummies
Omega 3 & Multivitamin Gummies for Adults
Omega 3 & Multivitamin Gummies for Kids
Skin, Hair & Nail Gummies
Tummy Gummies
Vitamin C & Zinc Gummies